Cabinet Painting Services in Highlands Ranch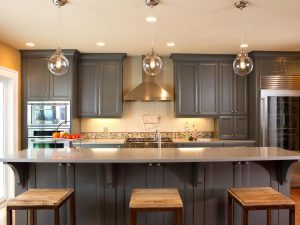 As the cost of kitchen remodeling has gone up significantly, kitchen cabinet painting has become increasingly popular and is finding favor among homeowners. Painting your kitchen cabinets can give your room a fresh, updated look for a fraction of the cost of a full kitchen renovation.
There are several things to keep in mind when painting kitchen cabinets. Some of these are cost, choosing a paint color, and choosing a primer. Our experienced kitchen cabinet painters will assist you every step of the way.
Our Process For Painting Kitchen Cabinets
Choosing a primer for kitchen cabinets:  When it comes to painting your kitchen cabinets, we can offer several different options, but choosing the right primer for the project is essential. It's important to take into account the base work, overall look, and the cost before choosing a specific primer. It's also important to know how the product will react to heat and moisture, how long it will take to dry, and how many VOCs it contains. You should also know whether you want to use a stain-blocking primer on your cabinets or not.

Depending on your needs, oil-based or latex-based primers can be used to prime your kitchen cabinets. Oil-based primers dry quickly, but they can cause problems if they are not properly applied. Oil-based primers can also be difficult to clean, and should be applied with a natural-bristle brush.

Choosing a paint color for kitchen cabinets: There are many choices when it comes to choosing a paint color for your kitchen cabinets. Many homeowners choose a deep, rich color such as dark mahogany, but if you're going for a soft, subtle look, you can go with warm neutrals like beige or sand. Warmer grays, on the other hand, tend to hide dirt better than lighter hues, which makes maintenance easier. Warm neutrals are ideal for a traditional kitchen.

While there are many neutral colors to choose from, some colors are more versatile than others. For example, an off-white kitchen cabinet can look stunning against black, or a lighter shade of gray can go with a darker countertop. For those who aren't sure what color to choose, one designer recommends sticking to a warm, neutral color that goes with many decor schemes.

Spray painting vs brush painting: While both paint methods are effective at creating a professional-looking finish, spray painting requires less time, and leaves fewer brush strokes than brush painting. The advantage of spray painting over brush painting is that the finished product is much more durable and can last for up to 10 years. It also requires less cleanup and preparation.
Cost of painting kitchen cabinets
The cost of painting your kitchen cabinets will depend on how many linear feet your cabinets have. Generally, professional painters charge by the linear foot of cabinet box and drawer face. You should also be aware that the amount of paint you'll need will depend on the size of your kitchen, as larger kitchens will require more paint, drop cloths, and labor. All in all, repainting your cabinets is still a much more affordable option than replacing them.
Our Cabinet Painting Services in Highlands Ranch
Cabinet painting is not an easy job and if you decide to go for it, you must understand what the benefits of cabinet painting are. Professional cabinet painters use their art on many things inside your home. The most important benefit of painting kitchen cabinets is that it can improve the look of your room, modernize a dated look, and it can also make the entire home look fresh and clean.
Give us a call today to schedule your free service quote on all cabinet painting services. Our contractors will visit your home to discuss your options for your cabinet painting services. We're here to help, so call us to learn more about our services today.