Exterior Painting – Commercial & Residential – in Highlands Ranch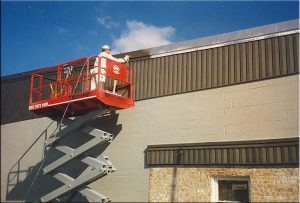 Highlands Ranch Painting Company is the premier exterior painting company in the Highlands Ranch area because of the vast services that we offer, done at the highest quality possible, offered at affordable costs to you. We have the best painting experts available with many years of experience beautifying homes and commercial buildings in the Highlands Ranch area. All of our painters are licensed, bonded, and insured. There is no reason not to choose Highlands Ranch Painting Company for all the exterior painting services that you need for your home or office.
Residential Exterior Painting Can Increase the Curb Appeal of Your Highlands Ranch Home
Professional residential exterior painting services in Highlands Ranch can improve the curb appeal of your home and help increase its value. Exterior painting is a reasonably inexpensive way to drastically change the appearance and style of your home, with little to no disruption to you and your family.  Most homeowners are very particular about how their house looks inside and out. They want their home to be beautiful, a place they can always call home and not just an investment on paper. You may not have the time to paint the exterior of your house yourself, so hiring a professional painting company can help you save time and money.
In addition to enhancing curb appeal, professional exterior painting services increase the value of a home. A fresh coat of paint not only enhances the appearance of the home but also protects the siding from the elements, extending its lifespan.
If you're planning to sell your home in the near future, an exterior paint job will make a significant difference in your home's overall value. According to a recent survey conducted by the National Association of Realtors, 66% of real estate agents agreed that new paint is important for curb appeal and that it's a project every homeowner should do before listing their home.
Commercial Exterior Painting in Highlands Ranch
By adding new paint to the exterior of your commercial property, you can improve the appearance of your office or retail space, improve sales, improve walk-in traffic, and change the perception of your brand. Furthermore, the exterior paint job can add curb appeal to a business, thereby making it stand out among the competition.
There are many advantages to hiring the services of professional painters for your exterior commercial painting job. The main advantage is that they can save you money on the costs of materials that normally you would have to purchase, and also save on time. Our expert painters will also be able to maintain a consistent quality of work that can last for years to come.
Additionally, exterior painting serves as proactive maintenance, preventing the need for costly replacement of siding. The costs of painting your building's exterior are usually much lower than those of siding replacement.
How We Can Help!
We are a fully licensed, bonded, and insured exterior painting contractor in Highlands Ranch, Colorado. We offer a wide range of services, which include:
Exterior Residential Painting
Exterior Commercial Painting
Exterior Industrial Painting
And More Exterior Painting Services!
Give us a call today to schedule your free service quote on all our exterior painting services. We proudly serve the Highlands Ranch area. Our contractors will visit your home or commercial space to discuss your options and provide you with a free, no-obligation quote.