Office Painting Services in Highlands Ranch, Colorado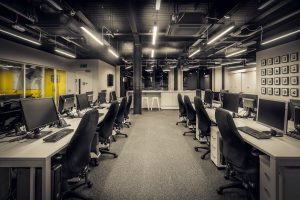 Highlands Ranch Painting Company is proud to serve the greater Highlands Ranch, Colorado area and the surrounding areas with our amazing painting services. Our very experienced painting professionals are fully licensed, bonded, and insured and have years of experience and are very skilled at painting any surface in any area. We use state-of-the-art equipment and highly trained workers to complete any painting project that you have. We offer a multitude of various painting services.
Business owners, or anybody else considering an upgrade to their office, can consider the benefits of choosing an office painting services provider to assist in completing this task. Installation can be extremely expensive and with most offices have several people working on the project it can get a little difficult to tell which parts need to be painted or washed. Choosing the correct professional painter can be very beneficial to make a quick upgrade, not only will it look great, but the new color scheme can make your office stand out from the crowd!
How We Can Help!
We are a fully licensed, bonded, and insured office painting contractor in Highlands Ranch, Colorado. We offer a wide range of services, which include:
Office Painting
Workspace Painting
And More Office Painting Services!
We offer a broad spectrum of services so that you know that you are receiving everything you want and need in one place. Give us a call today for your free quote on our office painting services.
Office Painting Services
There are many advantages that are associated with office painting services. The advantages of professional painters can be seen by simply analyzing the typical workflow. When a professional painter comes into your office and comes with the required tools such as paint cans, roller applicators, brushes, etc., what else do you have to do to get this done? Our painters will take care of everything for you, from preparation, to painting, to clean up.
Workspace Painting Services
There are many advantages to using professional workspace painting services. This is because by hiring professional painters, you get more than just a great looking space. Instead, you get the best possible results while spending less money!
Give us a call today to schedule your free service quote on all our office painting services. Our contractors will discuss your options for your office painting services. We're here to help, so call us to learn more about our services today.